UNISTONE AND RETAINING WALL INSTALLATION IN THE WEST ISLAND AREA!
At Entreprises Lavoie Leblanc, we know all about paving stones. With 30 years of experience in the design and execution of paving stone installation projects, including retaining walls, we set the standards in paving in Vaudreuil and the West Island of Montreal. Regardless of the project you have in mind, we offer a full range of services to respond to your needs.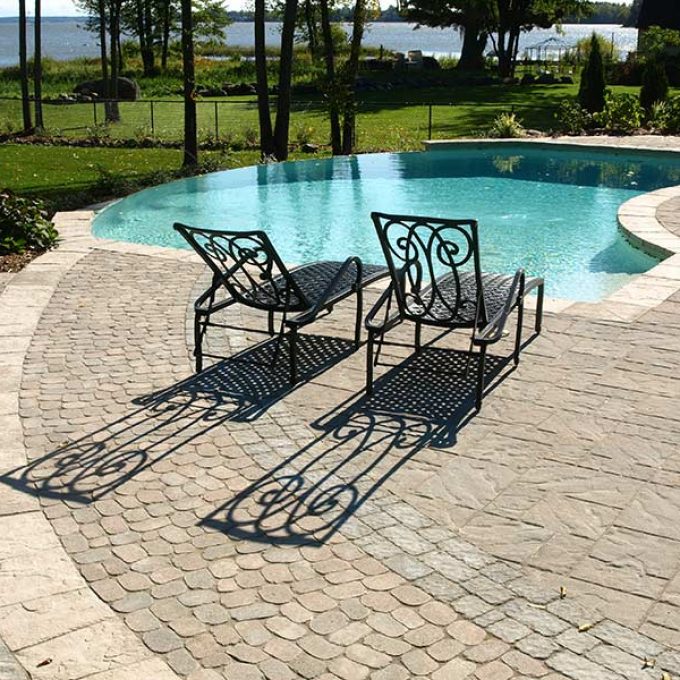 PAVING STONE INSTALLATION
Increase the value of your property with a paving stone surface that harmonizes perfectly with your home. Choose from a vast selection of paving stone textures, colors and sizes to add a touch of distinction and elegance to your yard. For a little extra creative flair and a striking visual effect, don't hesitate to add random designs and structures by taking advantage of our full line of Permacon and Techo Bloc products. The perfect finishing touch to your landscaping!
To create an impeccably landscaped area, we can achieve a perfect marriage of green spaces and paving stone pathways. First of all, our team will level the ground to make sure that it's even. Next, we'll meticulously lay the sod in order to offer you an attractive, verdant living space. All of the work will be completed in a single day!
Would you like to add a stairway leading to your deck or your home? Enjoy durability without compromising on looks by opting for paving stones, available in a wide variety of shapes and colors. A paving stone stairway will lend incomparable distinction and elegance to your home. And you can rest assured that we have the necessary expertise to create it!
Enjoy the convenience of a beautiful parking area, featuring paving stones that perfectly match the rest of your landscaping. Everything will be executed with utmost precision and care, from leveling your driveway, compacting the soil and spreading a layer of rock dust to placing the paving stones. Are you afraid that repeated cycles of frost and thaw might displace the pavers in your driveway? You should know that this is the result of inadequate soil preparation. But with Entreprises Lavoie Leblanc, nothing is left to chance. We'll make sure that the pavers in your driveway won't budge.
At Lavoie Leblanc, we're your retaining wall experts. Whether you need a retaining wall for your home or your business, we have the necessary equipment and expertise to ensure a solid, durable construction. Did you know that a retaining wall can be created using stones of varied colors and textures? A retaining wall made from paving stones is a practical, esthetic addition that's sure to enhance your exterior design.
Although we're experts in paving stones, we also offer asphalt paving, if necessary, for your landscaping needs. Would you like to pave your driveway or the parking lot of your business with asphalt? You can count on our team to do the job! Our professional personnel will ensure that the paving work is performed in accordance with best practices.
Send us an Email
Don't hesitate to call les Entreprises Lavoie Leblanc to discuss your project. We also invite you to complete the following form and give us a few details about your project. We will get back to you quickly to discuss your vision, expectations and the various possibilities we have to offer.
Business Hours
Monday8:00AM to 5:00PM

Tuesday8:00AM to 5:00PM
Wednesday8:00AM to 5:00PM
Thursday8:00AM to 5:00PM
Friday8:00AM to 5:00PM
Saturday8:00AM to 5:00PM
SundayClosed