Build your own landscaping plan, with our team
At Entreprises Lavoie Leblanc, we respond to all your needs when it comes to planning your landscaping. We can create a custom landscaping design in as little as 48 hours! Whether you need landscaping, paving stones, a retaining wall, a patio, sod or asphalt, Lavoie Leblanc can perfectly manage your project from A to Z.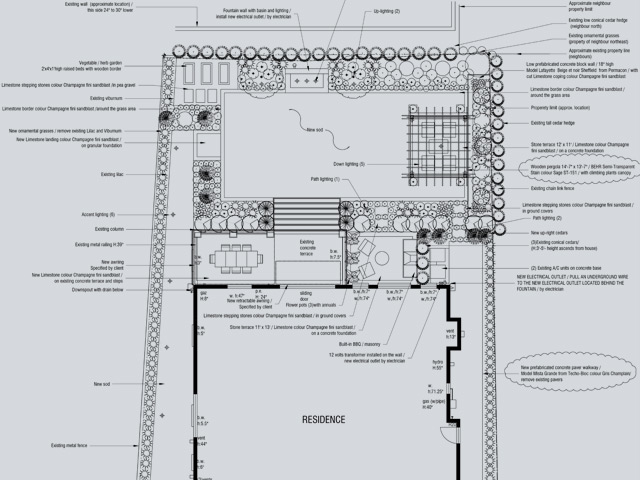 Meeting with a landscape architect
When you choose to do business with Entreprises Lavoie Leblanc, you're guaranteed a unique exterior design that will exceed your expectations. After your first meeting, our exterior designer will create a landscaping plan, which we will then send to you for your approval. Grading, green spaces, decks and accessibility: everything is carefully thought out. Once the plans have been approved, our team will perform all of the work within the agreed time-frame, so you can relax and enjoy peace of mind.
Always attentive to our clients, our Quebec-based company has been executing successful landscaping projects for more than 25 years. It's our pleasure to take the time to meet with you in order to create a personalized landscaping plan, and you can rest assured that we will undertake the work with utmost rigor and care so that you'll benefit from a result that exceeds your expectations.
It's thanks to our attentive service, custom landscaping designs and impeccable results that Lavoie Leblanc can boast more than 2,000 satisfied customers to date.
What's more, to help you imagine the possibilities offered by your outdoor space, we'll provide you with a free estimate. Our professional, experienced landscapers will be more than happy to help you perform all the necessary work to ensure that your outdoor area is exactly the way you imagined it, in keeping with the very highest standards of quality in the industry.
Send us an Email
Don't hesitate to call les Entreprises Lavoie Leblanc to discuss your project. We also invite you to complete the following form and give us a few details about your project. We will get back to you quickly to discuss your vision, expectations and the various possibilities we have to offer.
Business Hours
Monday8:00AM to 5:00PM

Tuesday8:00AM to 5:00PM
Wednesday8:00AM to 5:00PM
Thursday8:00AM to 5:00PM
Friday8:00AM to 5:00PM
Saturday8:00AM to 5:00PM
SundayClosed